Automated user provisioning is a specialized aspect of Identity and Access Management (IAM) that revolves around creating, managing, and granting access to user accounts and digital resources. This process streamlines the creation of user accounts, the assignment of permissions, and the configuration of access to various systems, applications, and services. User provisioning plays a crucial role in ensuring that when individuals join an organization, their digital identities are established correctly with the necessary access rights and permissions. It also ensures that when they depart, their access is swiftly revoked or adjusted.
Key aspects of the user provisioning process include:
Onboarding: Creating user accounts, specifying access rights, and configuring resources for new users or employees.
Offboarding: Disabling or deleting user accounts and revoking access privileges when users leave the organization.
Role-Based Provisioning: Assigning access and permissions based on users' roles and responsibilities.
Automation: Automating repetitive tasks to enhance efficiency and reduce errors.
Integration: Integrating with various systems, directories (e.g., Student Information Source), and applications to ensure consistent user provisioning across the organization.
Policy Enforcement: Enforcing security policies, compliance regulations, and best practices during user provisioning to maintain data security.
Automated User Provisioning in Active Directory and Integration
The Student Information System (SIS) serves as a repository for critical information about students, teachers, and staff. When a new individual registered himself in the institution, the Identity and Access Management (IAM) system automatically retrieves data from the SIS. This process ensures the creation of the user's account and provides them with the necessary access to target applications. The IAM system guarantees the accuracy of permissions and group memberships, adhering to the rules defined by administrators.
For instance, QuickLaunch streamlines this process by extracting data from the SIS to create user accounts. This approach empowers administrators to establish specific guidelines for all user categories, including staff, students, or faculty.
Furthermore, if a user is part of the student group, they are granted access to applications relevant to their department. This ensures a consistent setup of student accounts across all the necessary applications.
On the flip side, when a student leaves the institution, their user account is either deactivated or removed from Active Directory. Active Directory promptly synchronizes this information with the IAM solution, resulting in the suspension or deletion of the user's access to all the cloud applications they initially had privileges for. Some IAM solutions offer a real-time "kill switch" for offboarding scenarios, ensuring that departing staff or faculty members are swiftly removed from all applications and access, preventing potential security risks associated with active sessions on personal devices.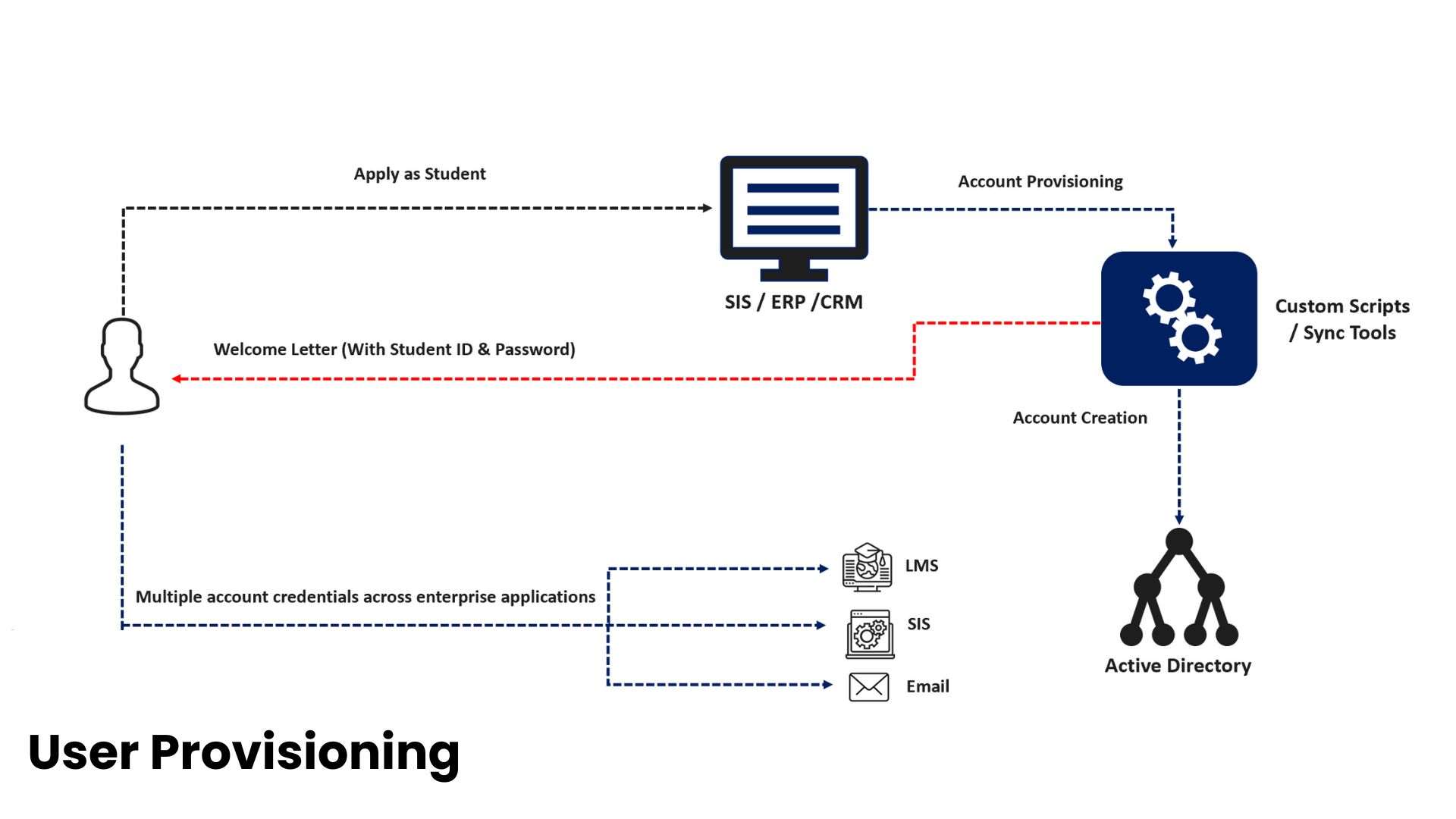 Manual user management in applications can be both time-consuming and prone to errors. QuickLaunch offers automated user provisioning to streamline the onboarding and offboarding processes, reduce the potential for mistakes, and enhance access control. Our user provisioning features encompass:
1. Real-time synchronization: QuickLaunch's provisioning tool fetch user data from SIS/LMS to AD thus ensuring efficient onboarding, and it offers IT a kill switch for managing unauthorized access.
Connectors like Banner, Blackboard, Exchange, Workday, Jenzabar, PeopleSoft, Canvas, D2L and many more are also available. These connectors are intended to replace homegrown scripts that move data from SIS/ERP to AD with a tool that provisions and deprovisions users.
3. Real-Time User Provisioning: Automatically create, update, and delete user accounts in applications on day one, aligning with user entitlements. Changes, such as role updates or access revocation, occur instantly.
4. Real-Time User De-provisioning: Our real-time synchronization ensures departing users are swiftly disabled in target applications, reducing security risks associated with manual de-provisioning.
5. AD Self-Service Password Reset: QuickLaunch prompts end users to change their AD password when it expires and allows proactive password changes. Multiple reset options, including email, SMS, push notifications, MFA, and security questions, are available.
6. Flexible Administrative Roles and Privileges: Assign applications to specific users programmatically, ensuring they only have access to what they need.
QuickLaunch's core platform includes single sign-on, multi-factor authentication, reporting, and an extensive App Catalog with over 5,000 pre-built integrations. Our solution is extensible and offers a robust feature set to meet your institution's evolving access requirements.
Contact us to discover more about QuickLaunch's capabilities.