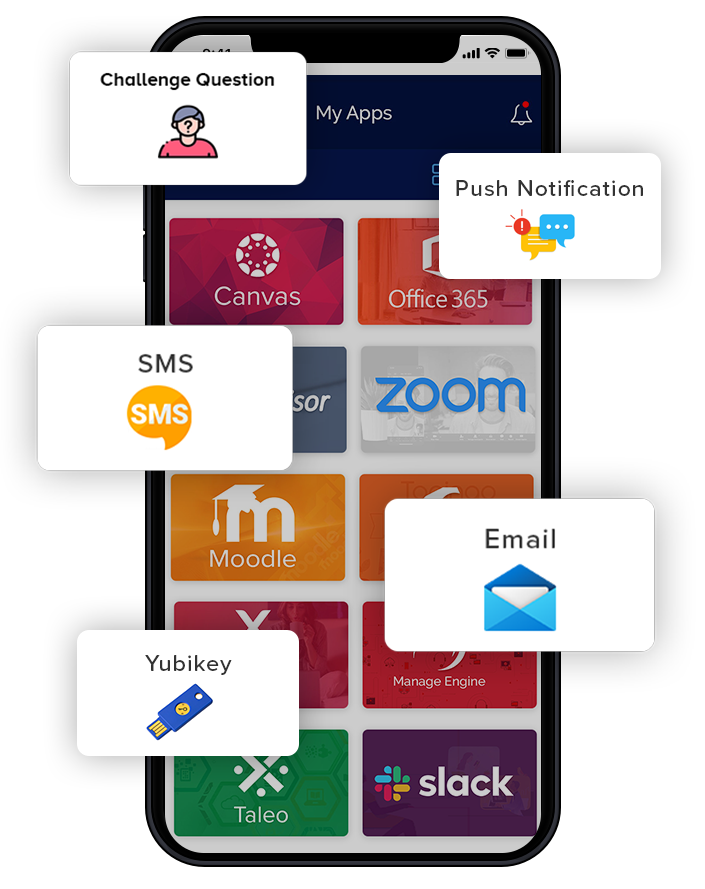 Adaptive Authentication
Enable Secure User Login from Anywhere
Improves cyber security posture by protecting user accounts from being hacked and thwarting ransomware and phishing cyber attacks.
---
Adaptive Authentication Capabilities of QuickLaunch

Password Manager Integration
Enable a secure password reset mechanism through multi-factor authentication.

Role-based Authentication
Establish role-based authentication through several modes like SMS, email, mobile app.

Challenge Questions
Verify users through challenge questions to ensure the right person logs in.

Push Authentication Notifications
Enable user authentication using push notifications on mobile devices.

Diverse Detection Criteria
Trigger authentication based on user's location, network, device, browser etc.

Fingerprint Authentication
Authenticate users via state-of-the-art fingerprint recognition on touch-enabled devices.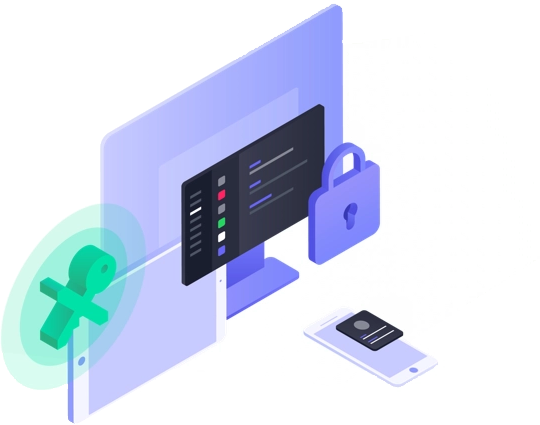 ---
Status Overview
QuickLaunch Adaptive Authentication uses AI-driven capabilities to recognize the need to prompt a user for MFA such as geo-location, time and device. to detect the need for prompting the user for MFA. Thus, eliminating high-risk security threats to any organization. All of this is visible under the status overview section of the Adaptive Authentication.
---
Benefits of QuickLaunch Multi-Factor Authentication
Password reset automation is an essential tool to support a positive end user experience and to allow the IT help desk staff to focus on more important tasks. Automation The Identity landscape is ever evolving –it is vital for Institutions of Higher Education to verify the identity of the person accessing systems on and off campus.

Improve Security
Enhance security through multi-factor authentication.

Better Flexibility
Enable users to access IT applications from anywhere at any time without compromising on security by enabling multi-factor authentication.

Better Compliance
Meet and Exceed security compliance with multi-factor authentication.

Keep threats at bay
Multi-factor authentication provides an additional layer of security.
"Jefferson Community College was manually handling the user account creation and management for years. Implementing QuickLaunch Automated User Provisioning (Banner® to AD®) is a huge step forward for our security infrastructure to know we are actively managing identities. It's going to tremendously enhance our audits and enhance IT productivity."

Don Horton

Chief Information Security Officer​

"After years of managing a home-grown solution and attempts with other 3rd party tools, Colorado Christian University selected QuickLaunch to help manage digital identities for students, staff, and faculty. We have been able to improve the end-user experience, boost staff productivity, improve institutional security, and reduce technical debt all at an affordable cost. The experience working with QuickLaunch has gone well and we look forward to the next phase of our project."

Renee Martin​

Chief Information Officer​

"We have greatly improved the user experience for everyone trying to find and utilize the many application services available at Illinois College. We have also saved a significant amount of budget and time with password reset, allowing our users to reset their own passwords 24/7, rather than having to wait for the service desk to be open. Accounts are better secured now that they are tied to SSO and forced to comply with our AD password policy, and with MFA we look to provide even better security."

Patrick Brown

Chief Information Officer

"It was a pleasure working with the team at QuickLaunch during implementation. They were very knowledgeable of different systems and did an excellent job walking my team through the process to ensure a smooth transition to single sign-on."

Dr. Mondrail Myrick​

Director of Information Technology

"We'd tried and abandoned multi previous approaches to single sign-on before adopting QuickLaunch. We needed a cloud-based solution that offered password reset, CAS, SAML, MFA, and the ability to ease the stress on the IT staff. QuickLaunch offered this and much more."

Allen Saylor​

Chief Technology Officer

"We had only 3 weeks to get a full SSO and Adaptive MFA solution in place. QuickLaunch got us there, and we're still expanding our footprint today. I highly recommend them."

Allan Chen​

Vice President for Institute Technology

"AIC is successfully using QuickLaunch SSO, MFA, and password management. We have doubled the number of SSO applications now that we have a secure authentication environment at a much lower cost than MFA competitors"

Mimi Roystan​

Chief Information Officer