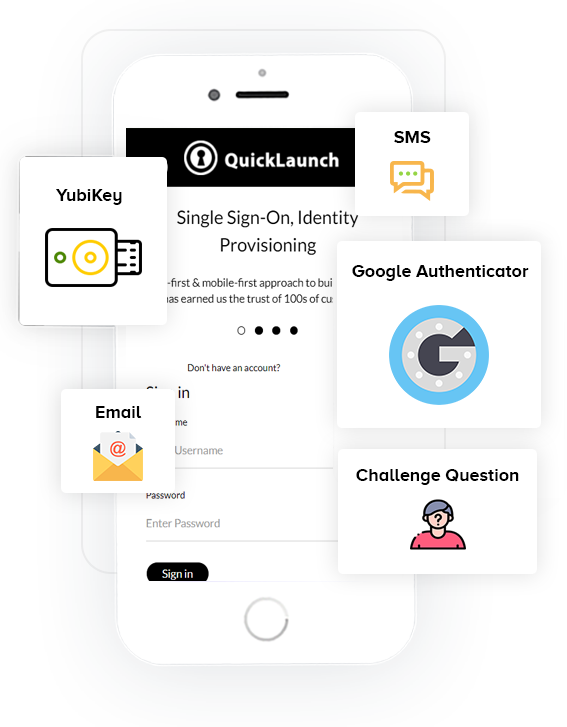 COVID-19: Secure Work from Home Access
#COVID19 #heretohelp #bettertogether
Upgrade your existing Smart Password Manager and enable Adaptive Multi-Factor Authentication (MFA) to secure Work from Home Access



Enable Adaptive Authentication
---
As the concerns due to COVID-19 pandemic continue to escalate and risk to institutional security continues to grow due to traditional authentication methods, it is really important to adapt and enable Adaptive Multi-Factor Authentication in order to protect enterprise applications.
This is a special COVID-19 invitation to the institutions already using QuickLaunch Smart Password Manager to enable Adaptive Multi-Factor Authentication leveraging the factor library thus complimenting security as well as user experience.
Our Adaptive Authentication engine uses machine learning to analyze a broad range of inputs such as device, location, time of login and other factors, calculating the risk score and determining the appropriate security action to be taken for each login attempt. Depending upon the level of risk, QuickLaunch's adaptive engine detects the number of authentication factors required to login.
How we stack up against DUOTM and MicrosoftTM
* Named Users as per the contract
Features
DUOTM MFA
QuickLaunch Adaptive Authentication
MicrosoftTM MFA
Pricing
$36 / user / year
$2.8 / user /year
$72 / user / year
Implementation and Support
Additional
Included
Additional
Device Recognition
Geo Location
IP Address
Self-Service Administrative Console
Challenge Response
Email Factor
SMS Factor
YubiKey
Google Authenticator
Mobile App
Reporting and Analytics
Other Products Frequently Bought and Configured with Adaptive Authentication
User Self-Registration
$1 / user / year
Get 10% off until May 31st, 2020
User Self-Registration enables institutions to onboard new users using 2 Factor Authentication without giving them default passwords.
Eliminate any possibility of intruder access using predictable defaults.
Streamline and automate the onboarding of new students, faculty and staff eliminating the practice of sending default passwords.
Automated Provisioning
$14 / user / year
Get 20% off until May 31st, 2020
Automated Provisioning allows institutions to manage digital identities and onboard users on the fly by providing the right permissions in real time.
Faster onboarding, even faster offboarding.
Role-based access control.
Join the 200+ Institutions leveraging QuickLaunch Adaptive Authentication