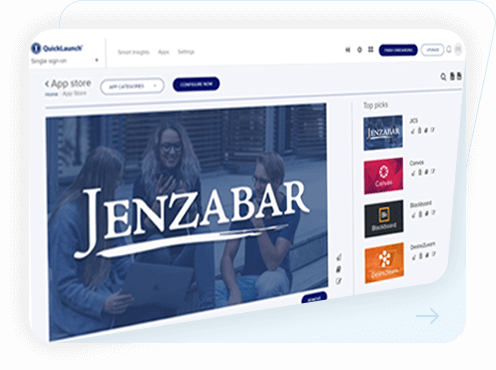 ---
App Store
500+ pre-integrated apps on a single platform. Add any app with a single click and begin configuring it for your users. Easy step-by-step guidelines to setup app configurations.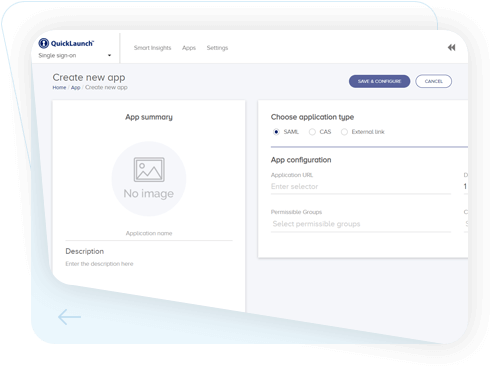 ---
Create a New App
Want to create your own app? Create a personalized app by filling in the basic app configuration requirements.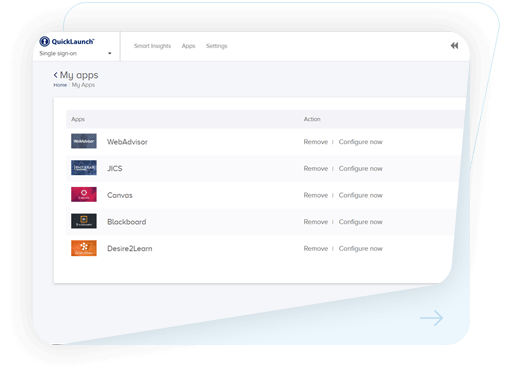 ---
My Apps
View all your apps on a single platform.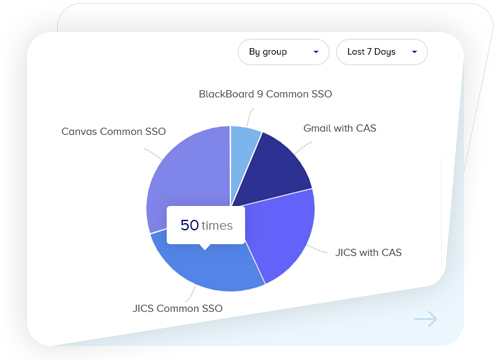 ---
Top 5 Most Accessed Apps
The Reporting and Analytics of QuickLaunch v7 detects the most accessed apps by user. It also detects the number of times the apps have been used and protocols like CAS or Common SSO initiated with each app. The information visible on the graph can also be sorted by changing the duration as well as the category like the group.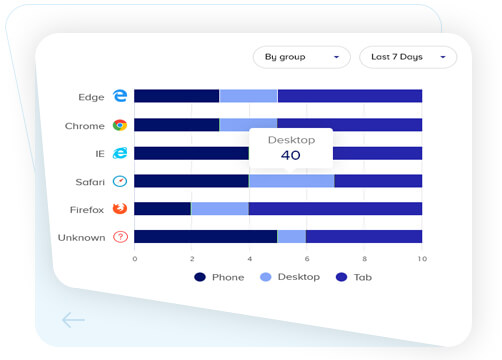 ---
Top Logged in Devices
Want to know the most used devices by your users? check the most used devices by the user broken out by Phone, Desktop, and Tablet along with the browser such as Chrome, Safari, IE, FireFox, Edge, etc the end-user is using to log into the portal. Our advanced AI-driven mechanism will also display the device most used and the total number of times your end-user has accessed using the same device.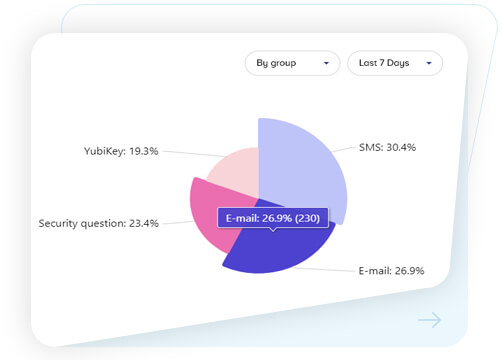 ---
Most Used MFA's
Our intuitive reporting and analytics tool are able to identify the most used MFAs and the usage factors by duration and by groups broken down by faculty, staff and students.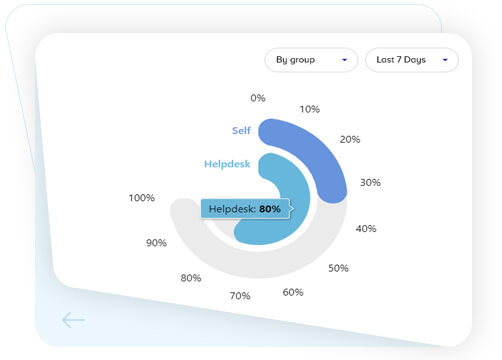 ---
Password Reset Sources
QuickLaunch's reporting and analytics tool displays the source used for resetting factors, sort out each password reset source by groups and time duration, as well as a change in password reset sources over a period of time.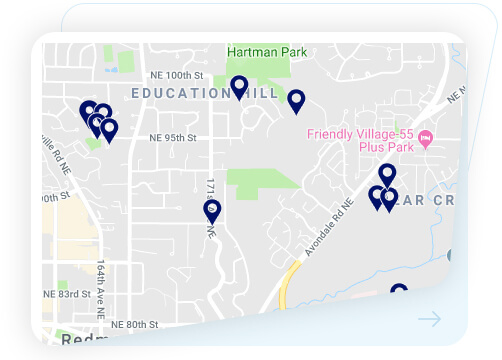 ---
Map Your User Login
Use our Map feature within the Reporting and Analytics tool to understand the most common locations used by the end-users to log in to their accounts.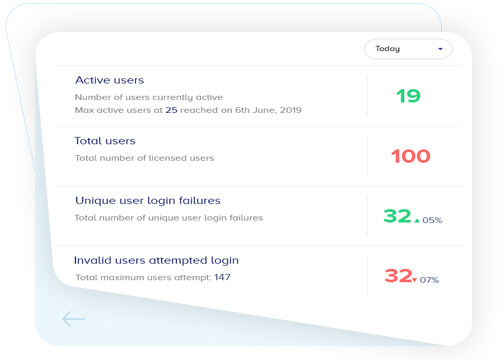 ---
Real-Time Reports
Identify the total number of users, active users, unique user login failures, and invalid user login attempts, based on a day or week.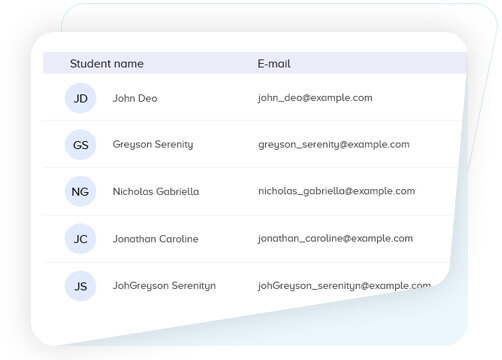 ---
Sign-in History
Monitor the end-users with our sign-in history feature allowing you to see the name and email id of the end-user who have recently logged into their accounts.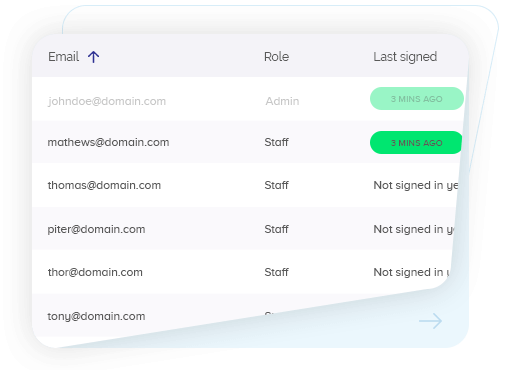 ---
User Activity
Role-based access controls enables user activity to be monitored including, email ID, time of access, and location.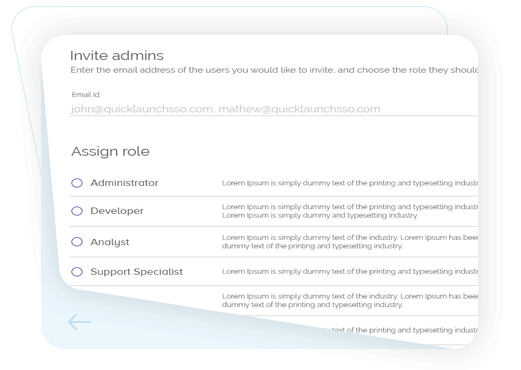 ---
Assign Roles
Grant specified roles to users utilizing the email id and assigning a type of role to one or many individuals.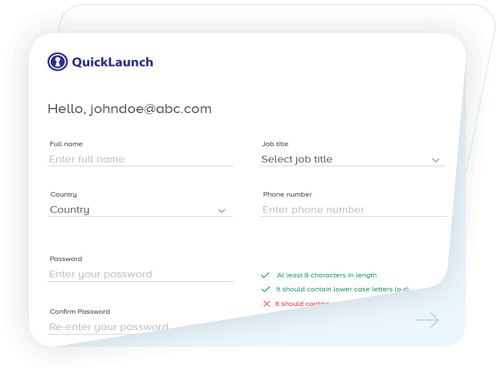 ---
Self-Service User Sign-Up
No more passwords sent via email or through the post office. Users are able to set their own information, password and password reset questions, eliminating help desk calls all via an email with a unique link for the user.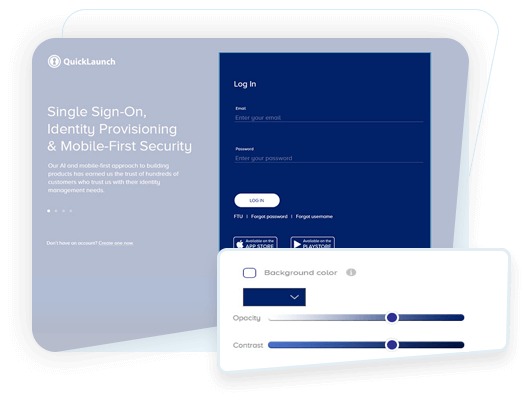 ---
Customize Your Form Background
Change the background as well as text color of your form on the login page .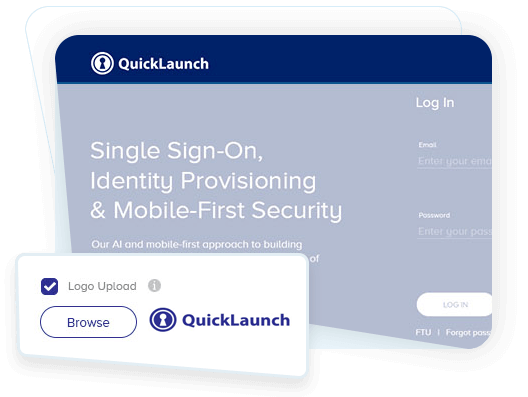 ---
Customize Your Header
Upload a logo to your header with an option to add color to your header. This header will be visible to all your users at the top of your login form.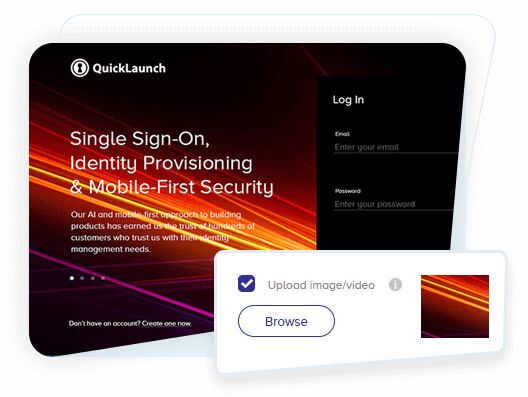 ---
Customize Your Background
Add a custom image or a video to the background of your login screen.
"We believe our partnership with QuickLaunch will benefit us as much as it does our clients," Perkins said. "It will allow both companies to support clients across an increased number of markets and enable us to provide them with an additional layer of security. And when you realize that 95% of enterprises experience identity-related breaches, that is something we think our clients can't do without. "

David Perkins

Executive Vice President of Sales
Howard Technology Solutions ​

"Jefferson Community College was manually handling the user account creation and management for years. Implementing QuickLaunch Automated User Provisioning (Banner® to AD®) is a huge step forward for our security infrastructure to know we are actively managing identities. It's going to tremendously enhance our audits and enhance IT productivity."

Don Horton

Chief Information Security Officer​

"After years of managing a home-grown solution and attempts with other 3rd party tools, Colorado Christian University selected QuickLaunch to help manage digital identities for students, staff, and faculty. We have been able to improve the end-user experience, boost staff productivity, improve institutional security, and reduce technical debt all at an affordable cost. The experience working with QuickLaunch has gone well and we look forward to the next phase of our project."

Renee Martin​

Chief Information Officer​

"We have greatly improved the user experience for everyone trying to find and utilize the many application services available at Illinois College. We have also saved a significant amount of budget and time with password reset, allowing our users to reset their own passwords 24/7, rather than having to wait for the service desk to be open. Accounts are better secured now that they are tied to SSO and forced to comply with our AD password policy, and with MFA we look to provide even better security."

Patrick Brown

Chief Information Officer

"It was a pleasure working with the team at QuickLaunch during implementation. They were very knowledgeable of different systems and did an excellent job walking my team through the process to ensure a smooth transition to single sign-on."

Dr. Mondrail Myrick​

Director of Information Technology

"We had only 3 weeks to get a full SSO and Adaptive MFA solution in place. QuickLaunch got us there, and we're still expanding our footprint today. I highly recommend them."

Allan Chen​

Vice President for Institute Technology

"AIC is successfully using QuickLaunch SSO, MFA, and password management. We have doubled the number of SSO applications now that we have a secure authentication environment at a much lower cost than MFA competitors"

Mimi Roystan​

Chief Information Officer