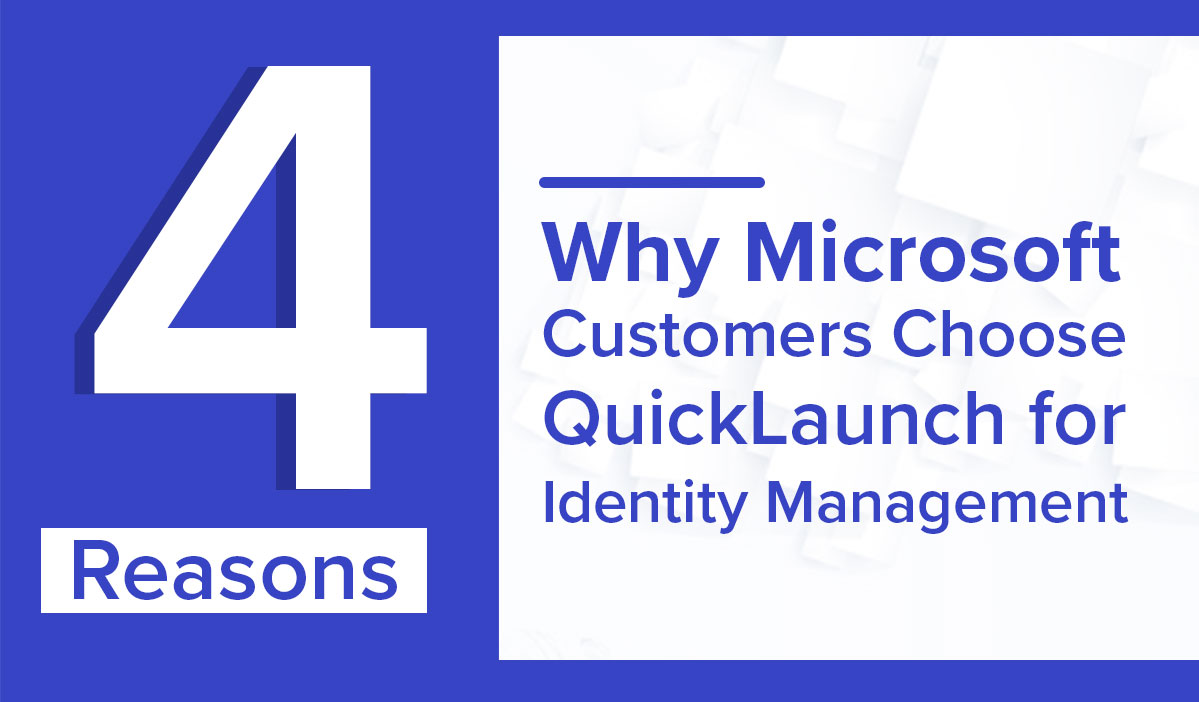 The widespread adoption of Microsoft Cloud Computing Services and its seamless integration within the Microsoft environment, organizations are choosing Microsoft Azure as their first option when it comes to cloud application management. The problem? Longer implementation times and expensive pricing plans that extend over expected timeframes turn seemingly low-cost plans into out-of-budget expenses.
Here are 4 reasons why Microsoft customers are choosing QuickLaunch to cost-effectively deploy identity management in less time:
1. Passwordless Single Sign-On with one click access to Active Directory
Organizations that have invested in a directory service like Active Directory want to leverage it to allow SSO for both on-premises and cloud apps. Single Sign-On eliminates the hassle of having to generate and remember unique passwords for each application and increases the security of business data when correctly implemented.
Microsoft Azure provides customers with an array of SSO tools such as the Active Directory Federation Services, Azure AD Connect, Password Sync, and Microsoft Identity Management. However, deploying and setting these tools individually, requires longer times and reallocating resources. Instead, our customers turn to QuickLaunch to deploy their SSO strategies from Active Directory in less time while remaining cost efficient.
2. Automated User Provisioning and Lifecycle Management
Adopting a Lifecycle Management solution is the smartest way to tackle the ongoing flux of users that would join or leave your organization. With new users requiring one day access to apps, SSO solutions provide a swift alternative for access control.
QuickLaunch makes it easier for managing user onboarding and offboarding. Through Automated Provisioning, it becomes easier to create new user accounts for cloud apps and deploy these apps. By providing the right permissions in real-time, customers have complete control of who gets in, and who stays out.
QuickLaunch integrates with more than 3,000+ apps, including Workday, Banner, Jenzabar, and more. See below image for some of the most common platforms.
3. Quickly and Cost Effectively Integrate with Office 365
Office 365 offers a complete cloud application suite capable of handling most of your organization needs. The challenge? Managing Office 365 is rather complex and time consuming. In fact, deploying Office 365 with the highest security standards and third-party mobile device management may take up to 18 to 24 months according to Microsoft timeframes.
With QuickLaunch platform, implementation with Office 365 can be done five times faster. All of this while reducing operational costs through automation for a cost-effective solution and easy-to-use experience.
4. Better Security with Adaptive Authentication and Password Manager with MFA
According to the 2021 Verizon Data Breach Investigations Report, credentials remain one of the most sought-after data types, closely followed by Personal Data. With Web Applications being targeted with a 93% ratio, having a strong MFA defense strategy is vital.
Now while Microsoft offers cloud-based solutions for MFA, customers would need to deploy the Microsoft on-premises MFA server with the Active Directory Federation Services to harness all the benefits. With QuickLaunch you can integrate quickly with Active Directory Federation Services (AD) in less time. This approach allows for a more dynamic angle in adapting to the everchanging circumstances and unusual events, securing identities and assets without overburdening users.
Using QuickLaunch Adaptive Authentication allows for better detection of high-risk logins with step-up authentication. Adaptive Authentication is sensitive to changes in user and device behavior, location, or altered behavior by pretexting or phishing. On the other hand, Password Manager with MFA is built to enhance your security and reduce help desk calls by 80%. With a Self-service password reset reduced helpdesk calls with AI-driven QuickLaunch Smart Password Manager and support for MFA for VPN.
All of this with added support for cloud environments and mobile users, so access to apps and data remains safe and easy-to-use.
Interested? Request a personalized demo and experience QuickLaunch firsthand.QuickLaunch's cloud-based identity solution is perfect for vendors who want an easy, efficient way of rolling out Microsoft products as well other technology services. With our vendor neutral architecture and ease of deployment, it is easier now than ever for Microsoft customers to get one day access, in the safest, and most efficient way possible.