Driving Student Success While Lowering Service Costs with QuickLaunch Simplify
Simplify is a new way of integrating your campus technology and improving the user experience. It empowers the institution to integrate disparate systems across the campus to provide a simple yet powerful student service tool that increases institutional efficiency.
It integrates with your institutions' SIS/ERP, LMS, CRM, and other applications securely enabling advisors to provide real-time information to students seamlessly. This modular and secure approach ensures student success at a fraction of the cost while managing inbound and outbound communication. It further keeps track of every student interaction in the form of tickets.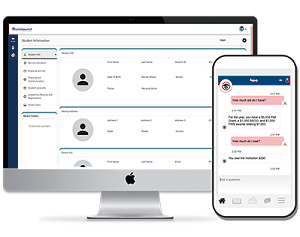 Simplify Consists of Different Modules that Include

SIMPLIFY AI
Chatbot & Voicebot to assist students with self-service support options that helps institutions in reducing the support costs.

SIMPLIFY Advisor
Delivers relevant information for students' multiple requests at a single place while reducing the number of help desk interactions.

SIMPLIFY Admin
A single dashboard view with unified access to information allows institutions to measure, monitor, and manage the service benchmarks.

SIMPLIFY Student
Delivers 24x7 personalized support to students for their diverse requests that arise throughout their academic lifecycle.

SIMPLIFY Contact Center
A cloud-based contact center solution that enables multi-modal student support whether staff are working on campus or at home.

SIMPLIFY Nudging
A personalized & focused outbound SMS campaign to communicate right information to students that empowers them to take a specific action.
Integration to Identity
Managing seamless yet secure access to different applications, through users' unique digital identity is essential for better user experience. That's why QuickLaunch provides a clean, transparent, secure, process-driven identity and access management platform for students. Learn more
Integration to ITSM
At QuickLaunch, we provide a helpdesk ticketing system or ITSM tool to capture requests received via voice calls, emails, and chats. All our services and our entire work culture is enhanced by seamless relationship management support. Learn more
Integration to SIS & ERP
QuickLaunch's Simplify integrates with a range of Student Information and Enterprise Resource Planning Systems like Banner®, Peoplesoft®, Colleague®, Jenzabar®, Workday®, Ellucian®, and others. This integration enables secure, relevant, and timely extraction and updating of student activity and engagement information. Learn more
Integration to LMS
QuickLaunch's Simplify integrates with all the leading learning management systems like Blackboard®, Canvas®, Moodle®, D2L®, and others to enable secure, relevant, and timely extraction and updating of student activity and engagement information. Learn more
Integration to CRM
QuickLaunch's Simplify seamlessly integrates with the institutions' CRM to create a data-run, transparent support ecosystem at the user institution. This integration with partner institutions' CRM analyzes all the institutional data in real-time, have measurable insights into student behavior, and make data-informed decisions. Learn more
We'd Love To Hear From You