Exclusive for USG Member Institutions
Get Single Sign-On and Password Manager with MFA at NO-COST
#COVID19 #heretohelp #bettertogether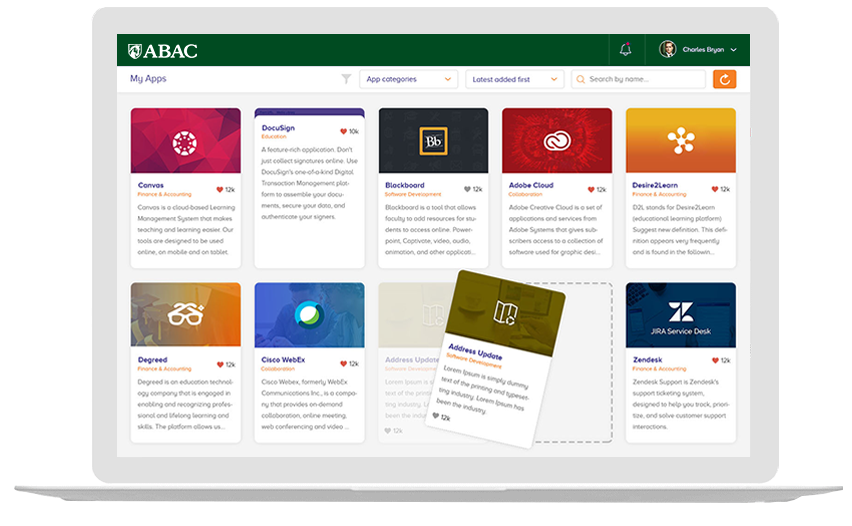 ---
We understand the challenges that higher ed institutions are facing with COVID-19 and the transition to a remote workforce. QuickLaunch is here to help. We thought of giving back to the community. So, we are providing Single Sign-On (SSO) and Password Manager with MFA at NO-COST to USG member institutions.
No license cost for 5 years, just pay for support.
REPLACE DUO®, ETHOS®, ON-PREM ADFS®, CAS, MFA, SAML, and PASSWORD RESET TOOL with JUST ONE SOLUTION – QUICKLAUNCH.
Get Started
---
No hidden fee. No terms and conditions. Pay only for support.
Features
SSO and Password Manager with MFA
Product Licensing Cost

$14,400

$0

/ year
Support Cost

$3,600

/ year
Federated SSO
In-built App Library
Self-Service Branding
Enterprise Portal Integration
Global inactivity time logout (GITO)
Self-Service Administrative Console
Role-based Access Control
Globally Configure Challenge Questions and Answers
Integrate Multiple Active Directories
Password Reset+Recovery By Email
Password Reset+Recovery By SMS
Password Reset+Recovery By YubiKey
Google Authentication
Configure Password Recovery+Reset Factor Globally and by Role
Password Expiry Notification
Reporting and Analytics
Smart Helpdesk
Features
SSO and Password Manager with MFA
Product Licensing Cost

$31,500

$0

/ year
Support Cost

$4,900

/ year
Federated SSO
In-built App Library
Self-Service Branding
Enterprise Portal Integration
Global inactivity time logout (GITO)
Self-Service Administrative Console
Role-based Access Control
Globally Configure Challenge Questions and Answers
Integrate Multiple Active Directories
Password Reset+Recovery By Email
Password Reset+Recovery By SMS
Password Reset+Recovery By YubiKey
Google Authentication
Configure Password Recovery+Reset Factor Globally and by Role
Password Expiry Notification
Reporting and Analytics
Smart Helpdesk
Features
SSO and Password Manager with MFA
Product Licensing Cost

$60,000

$0

/ year
Support Cost

$7,900

/ year
Federated SSO
In-built App Library
Self-Service Branding
Enterprise Portal Integration
Global inactivity time logout (GITO)
Self-Service Administrative Console
Role-based Access Control
Globally Configure Challenge Questions and Answers
Integrate Multiple Active Directories
Password Reset+Recovery By Email
Password Reset+Recovery By SMS
Password Reset+Recovery By YubiKey
Google Authentication
Configure Password Recovery+Reset Factor Globally and by Role
Password Expiry Notification
Reporting and Analytics
Smart Helpdesk
Features
SSO and Password Manager with MFA
Product Licensing Cost

$117,000

$0

/ year
Support Cost

$9,100

/ year
Federated SSO
In-built App Library
Self-Service Branding
Enterprise Portal Integration
Global inactivity time logout (GITO)
Self-Service Administrative Console
Role-based Access Control
Globally Configure Challenge Questions and Answers
Integrate Multiple Active Directories
Password Reset+Recovery By Email
Password Reset+Recovery By SMS
Password Reset+Recovery By YubiKey
Google Authentication
Configure Password Recovery+Reset Factor Globally and by Role
Password Expiry Notification
Reporting and Analytics
Smart Helpdesk
Features
SSO and Password Manager with MFA
Product Licensing Cost

$174,000

$0

/ year
Support Cost

$12,500

/ year
Federated SSO
In-built App Library
Self-Service Branding
Enterprise Portal Integration
Global inactivity time logout (GITO)
Self-Service Administrative Console
Role-based Access Control
Globally Configure Challenge Questions and Answers
Integrate Multiple Active Directories
Password Reset+Recovery By Email
Password Reset+Recovery By SMS
Password Reset+Recovery By YubiKey
Google Authentication
Configure Password Recovery+Reset Factor Globally and by Role
Password Expiry Notification
Reporting and Analytics
Smart Helpdesk
Features
SSO and Password Manager with MFA
Product Licensing Cost

$231,000

$0

/ year
Support Cost

Custom Quote

Federated SSO
In-built App Library
Self-Service Branding
Enterprise Portal Integration
Global inactivity time logout (GITO)
Self-Service Administrative Console
Role-based Access Control
Globally Configure Challenge Questions and Answers
Integrate Multiple Active Directories
Password Reset+Recovery By Email
Password Reset+Recovery By SMS
Password Reset+Recovery By YubiKey
Google Authentication
Configure Password Recovery+Reset Factor Globally and by Role
Password Expiry Notification
Reporting and Analytics
Smart Helpdesk
Join 800+ Institutions Leveraging QuickLaunch SSO and Password Manager with MFA