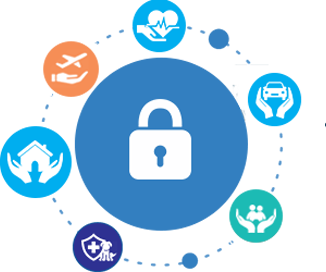 ---
Protecting Sensitivity of Data of Insurance Companies
On an average, users in insurance companies work with more than twenty IT applications. Their external business partners use up to ten applications with access to the insurers' data. In order to safeguard reputation, revenue and retention rates, the insurer must ensure that their customers are fully satisfied with its services and their data is fully protected. But, due to unauthorized access to critical data of customers by cyber-attackers, misuse by insiders or hackers, the threat to security of data of insurance company prevails.
---
QuickLaunch IAM Products for Digital Transformation of Insurance Sector

Automated Provisioning and Deprovisioning
QuickLaunch offers automated provisioning and de-provisioning, making onboarding and offboarding of users simple, while keeping in mind security issues.

Empowering Advanced Multi-Factor Authentication
The multi-factor authentication platform of QuickLaunch effectively reduce risk by controlling who has access to what on a case-by-case basis.

Digitizing Identity Based Security for Enterprises
QuickLaunch Identity and Access Management platform mitigates risk, secures data and meets compliance by giving users access to data and applications they need.
---
Modernizing IAM Solution for Insurance Sector
Efficient identity and access management solution is a viable part of insurance. QuickLaunch's AI-powered cloud IAM solutions are built to cater to the modern needs of Insurance sector, whilst complying with the security requirements.
Therefore, QuickLaunch is not only empowering Insurance sector to increase efficiency, but also bolster security. At the same time, the next-gen solutions are able to meet the daily user requirements of IT Insurance.

Omnichannel Access
Management
QuickLaunch help insurance companies in creating and managing secure identities of users, agents and partners therefore offering seamless and friction free access to policy information across channels and devices. It helps in simplifying and safeguarding access to digital properties with tiered single-sign-on, two-factor and step-up authentication.

Meeting Compliance
Regulations
QuickLaunch IAM not only ensures compliance but also helps insurance companies in maintaining more secure systems and applications. With audit paper trail, users can track when, how and by whom identity data was accessed. Detailed audit logs allow users to answer questions like "who can access which data and applications" or "who authorized this access" at any time.
Improve Identity-Based
Security
QuickLaunch IAM offers automated provisioning and de-provisioning, making onboarding joiners and deprovisioning leavers in systems very simple, while keeping in mind security issues. Quickly and consistently control a user's access across all business applications throughout the organization.

Better Customer
Insights
QuickLaunch IAM framework helps in combining demographic data with behavioral and personal preference insights on consumer interactions. Managing identities centrally creates a richer view of policyholder's data which increases revenue and brand loyalty. Gain new insights from reporting tools and segment data.
Ready to Enhance IAM at Your Organization?
Schedule a demo with us and learn all about our IAM products - IDP, SSO, Smart Password Manager, Automated Provisioning, Multi-Factor Authentication, Adaptive Authentication, and Shield. Implement our solutions at your institution and enhance the efficiency of all your users.
What Our Customers Say About Us
---
After years of managing a home-grown solution and attempts with other 3rd party tools, Colorado Christian University selected QuickLaunch to help manage digital identities for students, staff, and faculty. We have been able to improve the end-user experience, boost staff productivity, improve institutional security, and reduce technical debt all at an affordable cost. The experience working with QuickLaunch has gone well and we look forward to the next phase of our project.

Renee Martin​

Chief Information Officer​,
Colorado Christian University 

AIC is successfully using QuickLaunch SSO, MFA, and password management. We have doubled the number of SSO applications now that we have a secure authentication environment at a much lower cost than MFA competitors.

Mimi Roystan​

Chief Information Officer,
American International College​

It was a pleasure working with the team at QuickLaunch during implementation. They were very knowledgeable of different systems and did an excellent job walking my team through the process to ensure a smooth transition to single sign-on.

Dr. Mondrail Myrick

Director of Information Technology,
Bennett College

We have greatly improved the user experience for everyone trying to find and utilize the many application services available at Illinois College. We have also saved a significant amount of budget and time with password reset, allowing our users to reset their own passwords 24/7, rather than having to wait for the service desk to be open. Accounts are better secured now that they are tied to SSO and forced to comply with our AD password policy, and with MFA we look to provide even better security.

Patrick Brown

Chief Information Officer,
Illinois College

We'd tried and abandoned multi previous approaches to single sign-on before adopting QuickLaunch. We needed a cloud-based solution that offered password reset, CAS, SAML, MFA, and the ability to ease the stress on the IT staff. QuickLaunch offered this and much more.

Allen Saylor

Chief Technology Officer,
Abraham Baldwin Agricultural College

We had only 3 weeks to get a full SSO and Adaptive MFA solution in place. QuickLaunch got us there, and we're still expanding our footprint today. I highly recommend them.

Allan Chen​

Vice President for Institute Technology,
California Institute of the Arts​
Subscribe now to stay connected